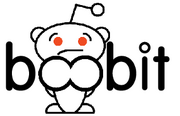 Big Boob Problems, also known as BBP, boobit, or Bustyland, is a reddit community dedicated to those who don unproportionately large breasts. The subreddit has over 15000 subscribers, and topics posted are allowed to be either serious or humorous. Users are free to vent, ask for advice, light-heartedly joke about themselves, or whatever their "breast-insulated hearts" desire.[1]
A list of Frequently Asked Questions can be found on reddit's wiki,[2] and the rules are strongly enforced to encourage a "safe place" atmosphere.[1] Sexual harassment, requesting pictures, unwarranted sexual feedback, putting down others' bodies, and gaslighting others, for example, are explicitly prohibited.[2]
It was created in July 2012, and it is the subreddit that originally inspired Busty Resources. It was created by hmwith, who got the idea from the more light-hearted subreddit bigdickproblems.
In November 2012, Small Boob Problems was created as the subreddit's balancing force.[3] Over the months, BBP has also inspired other subreddits, as well, such as Big Ass Problems[4] and Big Butt Problems[5].
References
Edit
External links
Edit
Community content is available under
CC-BY-SA
unless otherwise noted.