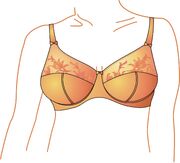 A brassiere, also known as a bra, is used to support one's breast tissue. There are many different bra styles to suit various needs.
Main article: Bra history
Bra fitting methods, patterns, styles, and materials have evolved over time, and different concepts of bras have fallen in and out of fashion.[2] Women used to wear corsets, and bras were created as a healthier alterative.[3] Cup sizes were invented by Formfit in the 1930s, which stood for "small", "medium" and "full size".[4] They added an "extra-large" soon after. It's worth noting that these cup sizes had nothing to do with breast volume, but, rather, amount of pendulousness.[5][6]
Adjustable bands and straps were also invented soon thereafter, quickly followed by the decline of store fitter quality[6][5] In the 1990s, elastic was added to bras, cup sizes above DD were finally invented, and the fitting methods have changed.[7][8]
References
Edit
External links
Edit
Community content is available under
CC-BY-SA
unless otherwise noted.