Bra sizing by company is an important factor when considering what bras will fits. Different bra manufacturers follow different measurements for identically labelled bra sizes.
This leads to advice, such as "cup size up and band size down for Curvy Kate" or "cup size down for Fantasie".
Band size
Edit
Some companies, such as Ewa Michalak, Ultimo,[1] and Panache,[1] run small in the band, so order a band size larger than usual. Others run big, such as Freya[1] and Change Lingerie,[1] so check before ordering. And remember to use sister sizes when switching bands, or you can end up with a cup that is too small.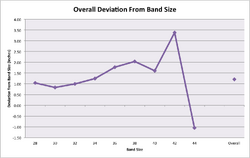 Many times, different styles of bras from the same brand will run differently. For example, the bands on unpadded Cleo bras tend to run small, but padded Cleos can run loose. But even different colorways of the same bra can affect the fit. Bands made of black and darkly-dyed fabrics tend to run smaller than white, yellow, and other light-colored fabrics.
Larger band sizes (roughly 38 and over) will usually stretch further simply because there is more fabric being used in the band. People who wear these sizes often find themselves needing to size down in band in order to get a proper fit. This isn't exclusive to only certain brands, as this happens across the board.[3]
| Name | Notes |
| --- | --- |
| Ewa Michalak | In general the bands have been inconsistent. Bras prior to SS13 even more so. After SS13, bands stretch more closely with the number on the tag (e.g. a 75 will stretch closer to 75cm, as opposed to 85cm). |
| Freya | Half cups run larger than the Deco collection, for example, but in general Freya bands run large. Plunge styles may be more true to size. |
| Masquerade | Because of the fabric Masquerade likes to use for their bands (satin), when the bra is new the band will not be very stretchy and can feel small. After wearing a few times, the fabric tends to stretch out and stay stretched out, making it feel closer to the labeled size or too big. Because of this, some people prefer to use their typical Masquerade size but with an extender for comfort at first to extend the bra's life. |
| Parfait | Bands tend to stretch a bit smaller or right at the band size. (e.g. a 30 will stretch to 28-30 inches) |
| Victoria's Secret | Overall, bands run one size larger and may stretch out very quickly, though some newer bras may run smaller than labeled.[4] |
Cup sizes
Edit
There is no international standard when it comes to cup sizes or letters. Each bra company can label their cups in any way they prefer, though there tends to be at least some consistency within each sizing system.
For the most part AUS brands employ numbering system similar to the UK for cups AA to DD and thereafter follow European cup labels (no double letters). However there is no consistency in sizes or cup labelling and it is strongly recommended to consult the manufacturers website. The Australian market is also flooded with UK and European brands which further complicates identifying the correct size when switching brands. Always consult the manufacturer website as most bra fitters are not well educated on cup brands differences, sizes and labels, especially above a DD cup. Less than six Australian manufacturers produce sizes above an Au F leading to most retailers misleading women about their true size in order to sell them bras in stocked sizes. Thus it is very important to calculate correct size in UK system to obtain properly fitting larger cup sizes from online retailers.
In general, EU and JP brands are labeled A-B-C-D-E-F-G-H-I-J-K-L-M-N-O, and may or may not include the "I" cup. Some exceptions are Kris Line, whose sizing is a mixture of both the UK and EU lettering system,[5] Comexim, who uses an HH instead of an I,[6] and Ewa Michalak uses the EU band sizes but the UK cup system.[7] Wellfitting, an American retailer of Comexim bras, uses a mixture of US and Comexim's EU cup sizes.[8][9]
EU/JP brands, as well as FR (BEF) brands, tend to increase each cup by 2cm, as opposed to the 2.54cm (1 inch) that UK and US brands run. Companies like Avocado[10] and Empreinte increase in intervals anywhere between 2.5cm to 4cm.
The UK sizing system is overall know for being very consistent. Companies that choose to use the UK cup sizes will label them as AA-A-B-C-D-DD-E-F-FF-G-GG-H-HH-J-JJ-K-KK-L-LL, with a few excepions, like Marks & Spencer which excludes the FF cup (A-B-C-D-DD-E-F-G-GG).
In contrast to the UK cup sizes, the US lettering system, and by extension Canada, is considered to be inconsistent. Some American companies, like Parfait by Affinitas Intimates, eschew the US cup sizing methods altogether and use the UK one.
As a general rule, US and UK cup sizes are the exact same up to a DD. After DD, the two cup lettering systems split off, with the UK cups continuing on as E-F-FF-G etc., while the US cups might continue on as DDD-DDDD-H, E-F-G-H, DDD-G-H, DDD-F-G-H, or any other variation. This can make purchasing bras online unreasonably difficult if one doesn't realize how different the lettering systems can be between brands.
Below is a chart of American and Canadian bra manufacturers with cup sizes that extend beyond DD, with the standard UK cup lettering system on top for conversion:
Cup volume
Edit
In some brands, such as Curvy Kate, one usually must go up a cup size, because the shape of many Curvy Kate styles can more shallow and wide than larger busts tend to be. In other brands such as Fantasie, it would be advised to go down a cup size. In both of these situations, keep a regular band size.
Cup width
Edit
Different companies have different cup widths. Not all styles work for every breast shape. In addition, the gore width can influence how wide, or narrow, the cups appear to be when worn. For example, Bra A, which has wide wires but a narrow gore, can be narrower on the body compared to Bra B, a simliar bra, but with narrow wires and a wide gore. This is because the width of the gore can change how far back the wires lay on the body.[11] Altering the gore on a bra can potentially help fix this, among other, fit issues.
Bratabase
Edit
Main article: Bratabase
The Bratabase is a user-built index of bra measurements, styles, and fit reviews. You can get a general idea of how different brands run, which bras have the same cut and measurements as others, make sense of different brand's sizing systems without manually converting them,[13] among other features.
References
Edit
↑ reddit: After doing a brief analysis of data from Bratabase, the Wire Width Guide is probably wrong.
External links
Edit
Community content is available under
CC-BY-SA
unless otherwise noted.