(11 intermediate revisions by the same user not shown)
Line 1:
Line 1:
−

Started by [[Bratabase]] in 2012, and still under development, the '''Breast Shapes Gallery''' is aimed to help women identify what shape their breasts are by using actual photographs as examples. By being able to identify breast shape more easily and more confidently, users will be able to find out which bras will work best for their shape.

+

Started by [[Bratabase]] in 2012, and , the '''Breast Shapes Gallery''' is aimed to help women identify what shape their breasts are by using actual photographs as examples. By being able to identify breast shape more easily and more confidently, users will be able to find out which bras will work best for their shape.

 
 
 
+

Bratabase's goal for the gallery is

⚫

The Gallery is looking for people to [http://www.bratabase.com/pages/Shapes/submit/ anonymously submit four (4) photos to help build the database

]

: a frontal, side shot, angle shot, and back shot of a naked torso. All potentially identifying features (tattoos, birth marks, faces) will be removed before the

gallery goes

public.

 
 
+
 
+

<blockquote>To build a gallery with pictures of real breasts where you can pick the ones that look more like your breasts. Not only by shape but also by size and even possibly body built! [...] We want to put together a gallery with contributed pictures that will be made available for users and to the internet to best describe breast shapes without having to coin names to them (read: "[[Breast_shape#Pear|full on bottom]]")<ref name=dybs>[http://www.bratabase.com/blog/2012/nov/21/determining-your-breast-shape-202/ ''Bratabase'': Determining your breast shape]</ref></blockquote>

 
+
 
+

While simliar galleries exist, such as the [[007b|007b breast gallery]], "[…] it is not classified, hard to browse, has irregular pictures and not matched to bra information."<ref name=dybs/>

 
+

==Contribute==

 
⚫

The Gallery is looking for people to [http://www.bratabase.com/pages/Shapes/submit/ anonymously submit four (4) photos to help build the database: a frontal, side shot, angle shot, and back shot of a naked torso. All potentially identifying features (tattoos, birth marks, faces) will be removed before the public.

 
 
 

==External links==

 

==External links==

Line 7:
Line 13:
 

*[http://www.bratabase.com/pages/Shapes/submit/ Contribute to the breast shapes database]

 

*[http://www.bratabase.com/pages/Shapes/submit/ Contribute to the breast shapes database]

 

*[http://www.bratabase.com/blog/2012/nov/21/determining-your-breast-shape-202/ Determining your breast shape]

 

*[http://www.bratabase.com/blog/2012/nov/21/determining-your-breast-shape-202/ Determining your breast shape]

 
+
 
+

==References==

 
+

<references/>

 
 
 

==See also==

 

==See also==

 

*[[Bratabase]]

 

*[[Bratabase]]

 
+

*[[Breast shape]]

 

[[Category:Websites]]

 

[[Category:Websites]]

 
+

[[Category:Breast shapes]]
---
Latest revision as of 18:13, 17 March 2015
Started by Bratabase in 2012, and publicly released in September 2014,[1] the Breast Shapes Gallery is aimed to help women identify what shape their breasts are by using actual photographs as examples. By being able to identify breast shape more easily and more confidently, users will be able to find out which bras will work best for their shape.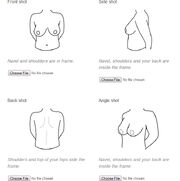 Bratabase's goal for the gallery is
To build a gallery with pictures of real breasts where you can pick the ones that look more like your breasts. Not only by shape but also by size and even possibly body built! [...] We want to put together a gallery with contributed pictures that will be made available for users and to the internet to best describe breast shapes without having to coin names to them (read: "full on bottom")[2]
While simliar galleries exist, such as the 007b breast gallery, "[…] it is not classified, hard to browse, has irregular pictures and not matched to bra information."[2]
Contribute[]
The Gallery is constantly looking for people to anonymously submit four (4) photos to help build the database: a frontal, side shot, angle shot, and back shot of a naked torso. All potentially identifying features (tattoos, birth marks, faces) will be removed before the images go public.
External links[]
References[]
See also[]