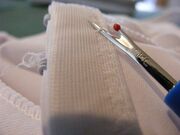 Knowledge as to how-to alter a bra for better fit is a skill that can come in useful if bra selections are limited for any reason, or if a bra simply doesn't fit anymore. There are band tightening and underwire modification tutorials available online.[2]
Alter band size
Shorten band
Occasionally, a bra's cup may fit the correct breast volume, but the band is too loose. For such a purpose, there are a few possible routes to follow which all affect overall fit in different ways.
Manually shorten the band:
Restrict the stretch from the elastic.[6]
Tighten the band with elastic.[7]
Use a Rixie Clip.[8]
Lengthen band
Sometimes, a bra's cup volume may be perfect, but the band is too tight. Increasing band size is simple.
Alter cup shape
Sometimes, a cup may fit the breast in an uncomfortable or unflattering way. There are several ways to fix this.
Alter gore
Alter shoulder straps
The shoulder straps of a bra may require adjustment, due to discomfort, poor fit, or any number of reasons.
Lengthen the bra straps.[29]
Alter underwire
Underwires can often become painful or prove problematic. However, with a little ingenuity, these issues may be fixed.
Other alterations
Fix uncomfortable under-cup lining.[36]
Convert a regular bra into a nursing bra.[37][38]
Convert a nursing bra into a regular bra.[39]
Convert a bra into a bikini top.[40][41]
Make a Pokébra.[42]
Fix gaping lace on the bra cups.[43]
Remove seamed lace outer-cup lining.[44]
Dye a bra a different color.[45]
See also
References
↑ 13.0 13.1 All's Fair in Love and Lingerie: Dealing With A Bra's Empty Cup Space and How To Make a Plunge into a Balconnet
↑ All's Fair in Love and Lingerie: Customizing Your Bra's Underwires and Making a Shallow Bra Projected
↑ reddit: Alteration Report - I am now the proud owner of a 28GG Freya Ivy longline with racerback straps.
↑ reddit: MsMandrakeRoot's My favorite alteration happens to be no-sew, and super easy! Making a two layer bra sheer; just snip out the lining!