How-to choose a bra for problem clothing is a handy skill for those who wish to wear more untraditionally-designed clothes while retaining a certain appearance. One common concern is how to keep a bra unseen underneath clothing.
Finding a suitably designed bra in one's size may occasionally prove difficult. In such a case, one may consider buying a bra of the right style that has the correct cup volume (for example, a 38D bra for a 32F-wearer), albeit an incorrect band size, then tailoring the bra down to fit.
Different fabrics
Edit
Thin fabric
Edit
When wearing a shirt with thin fabric, such as a t-shirt, the seams and other decorations on a bra may be visible through the material by creating bumps or impressions in the fabric. To address this issue, the ultimate tool is the t-shirt bra, a type of molded cup bra created so that no seams can be seen through a shirt. T-shirt bras can be different from general molded-cup bras in that there tends to be no ornamentation at all, such as bows or frills, as these details may be visible through the shirt.
Sheer fabric
Edit
For sheer clothing, the best color bra to wear is one which closely matches the wearer's skin-tone.
Different colors
Edit
Light color
Edit
Although common belief suggests wearing a white bra under white clothing to hide a bra, such is not the case, as white bras tend to be visible under most anything. The best bra color for light-colored clothing is skin-tone. If such a bra is not available, try any color close to one's skin-tone. Lighter-toned individuals may try pale pink or light gray. Darker-toned individuals may try muted purples or dark gray.
Dark color
Edit
A darker-colored bra tends to be less visible under dark clothing.
Racerback
Edit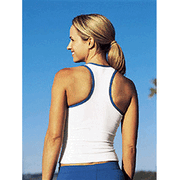 Racerback tank tops pose the problem of running inwards, toward the center of the back, exposing the back of a bra's straps. They typically do not run low enough to expose the bra band.
A backless bra can be worn when one is wearing a dress with no fabric covering the back.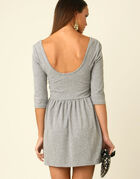 A low-backed garment differs from a backless garment in that only a portion of the back is revealed, instead of all the back down to the waist. As such, bras with a back band can still be worn and remain unseen.
One can purchase a low-backed bra, bustier, or corset, or use a low-backed bra converter. The converter attaches to the original bra band's fasteners, then pulls around the front of the body, such that the bra band falls lower on the back.[6]
Strapless
Edit
With a strapless dress, one is best off wearing a strapless bra. However, a corset would also work, and clear straps are a noticeable option.
Deep front
Edit
When wearing a shirt with a low cut front, a plunge bra would be the best options. If the sides are lower, as well, a demi cup bra, or a Balconette bra, specifically, would be better options to avoid the sides of cups from showing.
References
Edit
Community content is available under
CC-BY-SA
unless otherwise noted.