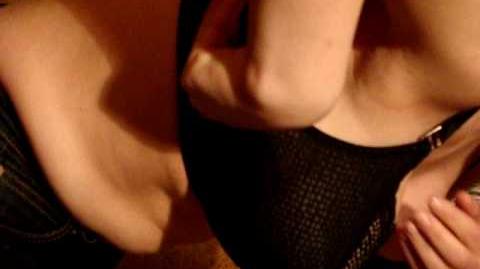 How-to put on a bra properly is a skill worth learning. If bras are not put correctly, breast tissue can sit in the band area, and migrated breast tissue can become a problem. A bra cup might seem too large, but, once you put it on correctly, you may realize that the cup is, in fact, too small, and the band is too large.
Scoop and swoop
Edit
Main article: Scoop and swoop

How to Put on Your Bra
After fastening the bra, make sure to use your hand to gently "scoop" all your breast tissue from the sides and armpit area into the cup, and assess the fit. Get in the habit of doing the scoop and swoop move. It enhances your bust, smooths out armpit and back bulges, and (for larger chested women especially) helps the breast fat that awful bras have savagely smashed into your armpits and around your torso migrate back into place. For many women, it is not uncommon for cup size to increase after a few months of wearing the right size bra, because all the previously smashed around tissue has settled back into its proper place: the breasts.
Evaluating fit
Edit
Main article: How-to tell if a bra fits
As far as the cups go, you want all the breast tissue in the cups. You don't want any bulging out in the armpits, being pushed back against your ribs, or spilling out over the top of the cups, also known as the dreaded quad-boob.
The band should be snug (one should be able to fit no more than two fingers underneath it), parallel to the floor, and flush against one's chest (even between them).
External links
Edit
References
Edit
Community content is available under
CC-BY-SA
unless otherwise noted.