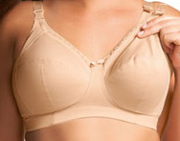 A nursing bra is a bra used when breastfeeding. It is typically characterized by a flap or panel on the cup that easily pops down (usually by undoing a single hook or clasp) to allow for quick, discreet access to the nipple, making it easier for a baby to breastfeed. A nursing bra is built to provide additional support and comfort for potentially sore breasts with its inclusion of wider straps, fuller cups, and more comfortable material. Extra padding is either built into the cup or added in the form of inserted bra pads; this extra padding absorbs any leaking milk.
With a little sewing, any bra can be converted to a nursing bra.
Manufacturers and products
[
]
Bras
[
]
The cup sizes from different manufacturers are inconsistent, because there are variations between country and company.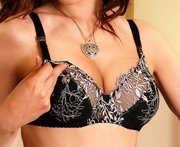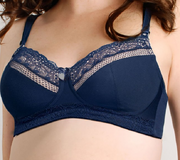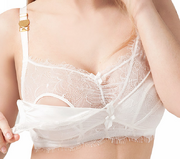 Conversion
[
]
Several manufacturers will convert any bra they carry for small extra fees when ordering.
Frequently Asked Questions (FAQ's)
[
]
When should I buy a nursing bra?
[
]
It is impossible to predict the extent to which your boobs will grow and your body will change as milk production begins and your bump goes down. As such, it is recommended that you get fitted for a nursing bra when you need it.[5] 
How can I tell if I need to get re-fitted / need a different size?
[
]
Your boob size will fluctuate depending on how recently you have fed. Nursing Bra fittings are based on fitting for your boobs at their biggest, and as such you may find your bra is slightly large after feeding. Consider a refit if:
The bra is digging in
It feels too tight
Your boobs are consistently bulging out of the cups
You are experiencing any other discomfort
What happens when I stop breastfeeding?
Once stopped, your body will stop producing milk and your boob size will settle. How long this take varies from woman to woman, and it is impossible to predict whether your boobs will return to their original size, be bigger, or smaller.[5]
Nursing Bras don't give me the shape I like from my "normal" bras – why is this?
[
]
Unlike many "normal" bras, most nursing bras are wire free, and as such do not offer as much support.[5] 
Can I wear an under-wired bra when breastfeeding?
[
]
This generally, is not recommended. Under-wired bras are more rigid in shape and size and as such, have little room to accommodate the size fluctuations you will experience when breastfeeding. This can lead to discomfort, damage to breast tissue, and, sometimes, an increased risk of mastitis if wires start digging in.[5] 
See also
[
]
References
[
]