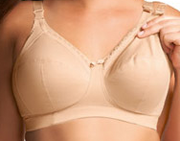 A
nursing bra
is a
bra
used when
breastfeeding
. It is typically characterized by a flap or panel on the
cup
that easily pops down (usually by undoing a single hook or clasp) to allow for quick, discreet access to the
nipple
, making it easier for a baby to breastfeed. A nursing bra is built to provide additional support and comfort for potentially sore breasts with its inclusion of wider
straps
, fuller cups, and more comfortable material. Extra padding is either built into the cup or added in the form of inserted
bra pads
; this extra padding absorbs any leaking milk.
With a little sewing, any bra can be converted to a nursing bra.
Manufacturers and products
Bras
The cup sizes from different manufacturers are inconsistent, because there are variations between country and company.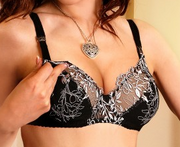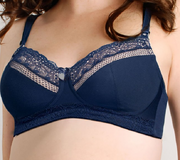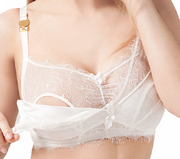 Conversion
Several manufacturers will convert any bra they carry for small extra fees when ordering.
See also
References