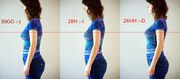 A sister size is a related bra size with the same cup volume of each other. One's sister size could, in theory, be used as a substitute for one's true size, but the bra wouldn't fit correctly.[3]
Theory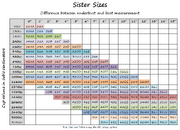 Sister sizes have the same cup volume as each other. The difference of band size simply changes the fit.
Typical stores suggest sister sizes to sell their limited inventory to the customer, as opposed to a bra that actually fits. This perpetuates the problem of most women wearing band sizes too large, with correspondingly wrong cup sizes.[3]
Sometimes, two adjacent sister sizes may both fit a woman, since the cup volume is the same, while the band size can be adjusted to a small degree by using the hook and eye fasteners in the bra clasp.[3] Usually, it much less comfortable and flattering, however.
Charts
Main article: Bra sizing by country
UK sister sizes
Sister sizes (UK sizing)

| 26 | 28 | 30 | 32 | 34 | 36 | 38 | 40 | 42 | 44 | 46 | 48 | 50 | 52 | 54 |
| --- | --- | --- | --- | --- | --- | --- | --- | --- | --- | --- | --- | --- | --- | --- |
| 26AA | | | | | | | | | | | | | | |
| 26A | 28AA | | | | | | | | | | | | | |
| 26B | 28A | 30AA | | | | | | | | | | | | |
| 26C | 28B | 30A | 32AA | | | | | | | | | | | |
| 26D | 28C | 30B | 32A | 34AA | | | | | | | | | | |
| 26DD | 28D | 30C | 32B | 34A | 36AA | | | | | | | | | |
| 26E | 28DD | 30D | 32C | 34B | 36C | 38AA | | | | | | | | |
| 26F | 28E | 30DD | 32D | 34C | 36B | 38A | 40AA | | | | | | | |
| 26FF | 28F | 30E | 32DD | 34D | 36C | 38B | 40A | 42AA | | | | | | |
| 26G | 28FF | 30F | 32E | 34DD | 36D | 38C | 40B | 42A | 44AA | | | | | |
| 26GG | 28G | 30FF | 32F | 34E | 36DD | 38D | 40C | 42B | 44A | 46AA | | | | |
| 26H | 28GG | 30G | 32FF | 34F | 36E | 38DD | 40D | 42C | 44B | 46A | 48AA | | | |
| 26HH | 28H | 30GG | 32G | 34FF | 36F | 38E | 40DD | 42D | 44C | 46B | 48A | 50AA | | |
| 26J | 28HH | 30H | 32GG | 34G | 36FF | 38F | 38E | 42DD | 44D | 46C | 48B | 50A | 52AA | |
| 26JJ | 28J | 30HH | 32H | 34GG | 36G | 38FF | 40F | 40E | 44DD | 46D | 48C | 50B | 52A | 54AA |
| 26K | 28JJ | 30J | 32HH | 34H | 36GG | 38G | 40FF | 42F | 44E | 46DD | 48D | 50C | 52B | 54A |
| 26KK | 28K | 30JJ | 32J | 34HH | 36H | 38GG | 40G | 42FF | 44F | 46E | 48DD | 50D | 52C | 54B |
| 26L | 28KK | 30K | 32JJ | 34J | 36HH | 38H | 40GG | 42G | 44FF | 46F | 48E | 50DD | 52D | 54C |
| 26LL | 28L | 30KK | 32K | 34JJ | 36J | 38HH | 40H | 42GG | 44G | 46FF | 48F | 50E | 52DD | 54D |
| 26M | 28LL | 30L | 32KK | 34K | 36JJ | 38J | 40HH | 42H | 44GG | 46G | 48FF | 50F | 52E | 54DD |
| 26MM | 28M | 30LL | 32L | 34KK | 36K | 38JJ | 40J | 42HH | 44H | 46GG | 48G | 50FF | 52F | 54E |
| 26N | 28MM | 30M | 32LL | 34L | 36KK | 38K | 40JJ | 42J | 44HH | 46H | 48GG | 50G | 52FF | 54F |
| | 28N | 30MM | 32M | 34LL | 36L | 38KK | 40K | 42JJ | 44J | 46HH | 48H | 50GG | 52G | 54FF |
| | | 30N | 32MM | 34M | 36LL | 38L | 40KK | 42K | 44JJ | 46J | 48HH | 50H | 52GG | 54G |
| | | | 32N | 34MM | 36M | 38LL | 40L | 42KK | 44K | 46JJ | 48J | 50HH | 52H | 54GG |
| | | | | 34N | 36MM | 38M | 40LL | 42L | 44KK | 46K | 48JJ | 50J | 52HH | 54H |
| | | | | | 36N | 38MM | 40M | 42LL | 44L | 46KK | 48K | 50JJ | 52J | 54HH |
| | | | | | | 38N | 40MM | 42M | 44LL | 46L | 48KK | 50K | 52JJ | 54J |
| | | | | | | | 40N | 42MM | 44M | 46LL | 48L | 50KK | 52K | 54JJ |
| | | | | | | | | 42N | 44MM | 46M | 48LL | 50L | 52KK | 54K |
| | | | | | | | | | 44N | 46MM | 48M | 50LL | 52L | 54KK |
| | | | | | | | | | | 46N | 48MM | 50M | 52LL | 54L |
| | | | | | | | | | | | 48N | 50MM | 52M | 54LL |
| | | | | | | | | | | | | 50N | 52MM | 54M |
| | | | | | | | | | | | | | 52N | 54MM |
| | | | | | | | | | | | | | | 54N |
US sister sizes
Sister sizes (US sizing)

| 28 | 30 | 32 | 34 | 36 | 38 | 40 | 42 | 44 | 46 | 48 | 50 | 52 | 54 | 56 |
| --- | --- | --- | --- | --- | --- | --- | --- | --- | --- | --- | --- | --- | --- | --- |
| 28AA | | | | | | | | | | | | | | |
| 28A | 30AA | | | | | | | | | | | | | |
| 28B | 30A | 32AA | | | | | | | | | | | | |
| 28C | 30B | 32A | 34AA | | | | | | | | | | | |
| 28D | 30C | 32B | 34A | 36AA | | | | | | | | | | |
| 28DD/E | 30D | 32C | 34B | 36A | 37AA | | | | | | | | | |
| 28DDD/F | 30DD/E | 32D | 34C | 36B | 38A | 40AA | | | | | | | | |
| 28DDDD/G | 30DDD/F | 32DD/E | 34D | 36C | 38B | 40A | 42AA | | | | | | | |
| 28H | 30DDDD/G | 32DDD/F | 34DD/E | 36D | 38C | 40B | 42A | 44AA | | | | | | |
| 28I | 30H | 32DDDD/G | 34DDD/F | 36DD/E | 38D | 40C | 42B | 44A | 46AA | | | | | |
| 28J | 30I | 32H | 34DDDD/G | 36DDD/F | 38DD/E | 40D | 42C | 44B | 46A | 48AA | | | | |
| 28K | 30J | 32I | 34H | 36DDDD/G | 38DDD/F | 40DD/E | 42D | 44C | 46B | 48A | 50AA | | | |
| 28L | 30K | 32J | 34I | 36H | 38DDDD/G | 40DDD/F | 42DD/E | 44D | 46C | 48B | 50A | 52AA | | |
| 28M | 30L | 32K | 34J | 36I | 38H | 40DDDD/G | 42DDD/F | 44DD/E | 46D | 48C | 50B | 52A | 54AA | |
| 28N | 30M | 32L | 34K | 36J | 38I | 40H | 42DDDD/G | 44DDD/F | 46DD/E | 48D | 50C | 52B | 54A | 56AA |
| | 30N | 32M | 34L | 36K | 38J | 40I | 42H | 44DDDD/G | 46DDD/F | 48DD/E | 50D | 52C | 54B | 56A |
| | | 32N | 34M | 36L | 38K | 40J | 42I | 44H | 46DDDD/G | 48DDD/F | 50DD/E | 52D | 54C | 56B |
| | | | 34N | 36M | 38L | 40K | 42J | 44I | 46H | 48DDDD/G | 50DDD/F | 52DD/E | 54D | 56C |
| | | | | 36N | 38M | 40L | 42K | 44J | 46I | 48H | 50DDDD/G | 52DDD/F | 54DD/E | 56D |
| | | | | | 38N | 40M | 42L | 44K | 46J | 48I | 50H | 52DDDD/G | 54DDD/F | 56DD/E |
| | | | | | | 40N | 42M | 44L | 46K | 48J | 50I | 52H | 54DDDD/G | 56DDD/F |
| | | | | | | | 42N | 44M | 46L | 48K | 50J | 52I | 54H | 56DDDD/G |
| | | | | | | | | 44N | 46M | 48L | 50K | 52J | 54I | 56H |
| | | | | | | | | | 46N | 48M | 50L | 52K | 54J | 56I |
| | | | | | | | | | | 48N | 50M | 52L | 54K | 56J |
| | | | | | | | | | | | 50N | 52M | 54L | 56K |
| | | | | | | | | | | | | 52N | 54M | 56L |
| | | | | | | | | | | | | | 54N | 56M |
| | | | | | | | | | | | | | | 56N |
Benefits
Dangers
Usage
See also
References